Our PSR-S/PSR-SX Series Comparison article has proved extremely popular, so with the evolution and advance of Yamaha's PSR-E and PSR-EW series keyboards, with two new upgraded models launching in Spring 2022, we have done the same with Yamaha's current eleven models of this series. Models released prior to the PSR-E263 are not covered here; they will generally have a lower specification set and may still be available to purchase second-hand.
Introduction
The PSR-E and PSR-EW series of Yamaha music keyboards were always intended to be fairly entry-level instruments aimed at younger and/or beginner players who wanted to be able to experience a good basic piano sound together with a range of other musical and fun features such as real world and synthetic sounds, accompaniments, effects and basic performance functions.
The PSR-E series feature 61 notes (5 octaves) whereas the PSR-EW series have 76 notes (just over 6 octaves). The keyboard style is the same across the range, with organ/synth style full-size keys, touch sensitivity, no aftertouch, and adjustable touch response.
Polyphony ranges from 32 on the lower models up to 64 on the higher-end keyboards.
They can all be used with a sustain pedal, although the lower-end models also include a sustain button on the front panel. Several have a pitch bend wheel, the higher-end models have DSP effects. Number of voices and accompaniments increase through the range, as do the number of effects.
The newer models feature a melody suppressor, crossfade, articulation, grooves, mega boost and motion effects.
Higher end models also feature bigger and beefier amps and speakers, increased recording time, and more connection options.
Latest Models: PSR-EW425 / PSR-E473
Being released in spring 2022, Yamaha's latest models in this range feature more advanced sound possibilities previously reserved for models in more expensive ranges.
Yamaha revamped the control panel and LCD, phased out the numeric keypad, added Direct Category Access buttons.
The optimized control panel makes it quick and easy to access Voices, Styles and functions so that you can focus your time on being creative.
With dedicated buttons, Quick Sampling, and innovative Motion Effect functionality, you can intuitively express the sounds you're hearing in your head.
Main features include:
Super Articulation Lite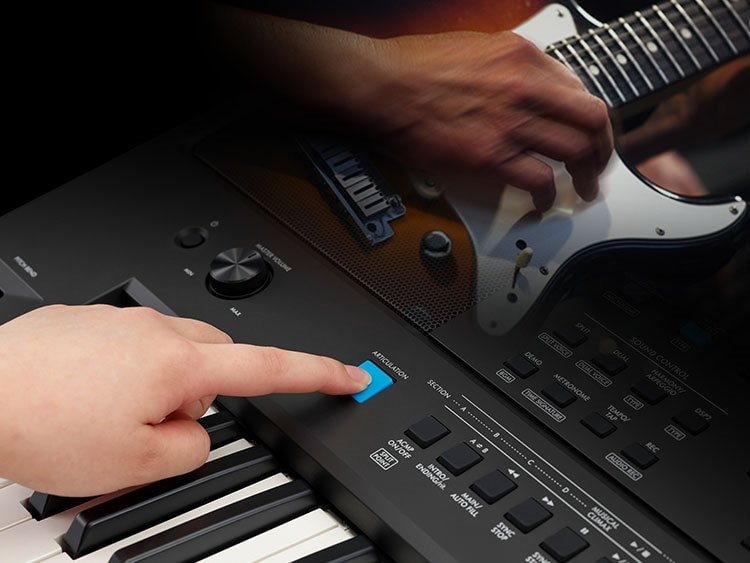 The PSR-EW425 is equipped with Super Articulation Lite, a function that realistically simulates the distinct ways each instrument is played—for example, the scratch sound of a distorted electric guitar or the harmonics of a nylon-string guitar.
DSP effects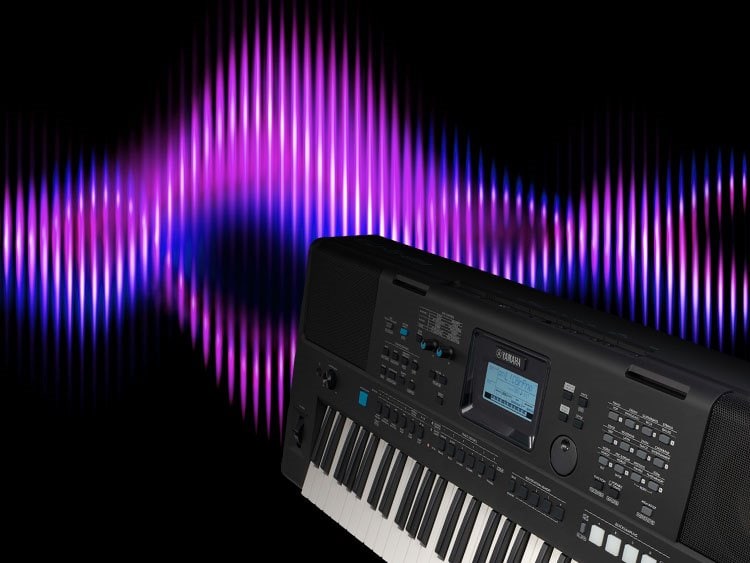 The PSR-EW425 is one of the only models in the PSR-EW series to feature two channels for insertion effects. Equipped with the latest LSI tone generator, this instrument delivers high-quality effects previously available only with high-end models.
Premium organ sound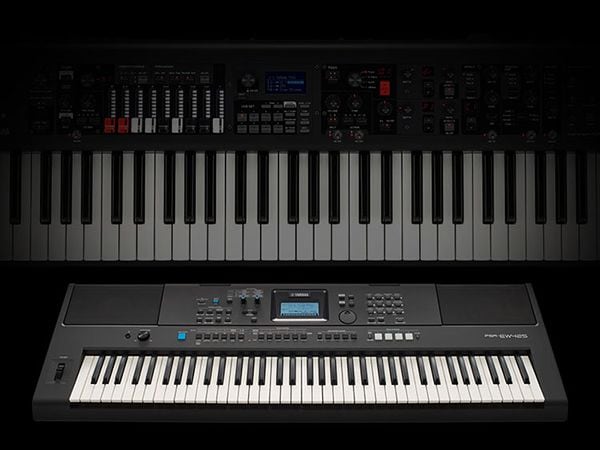 The PSR-EW425 is equipped with premium sound content designed specifically to multiply the appeals of the 76-key keyboard. The realistic organ sounds created with samples from high-end Yamaha YC Series of stage keyboards put the expressive range of the 76 keys at your fingertips.
World content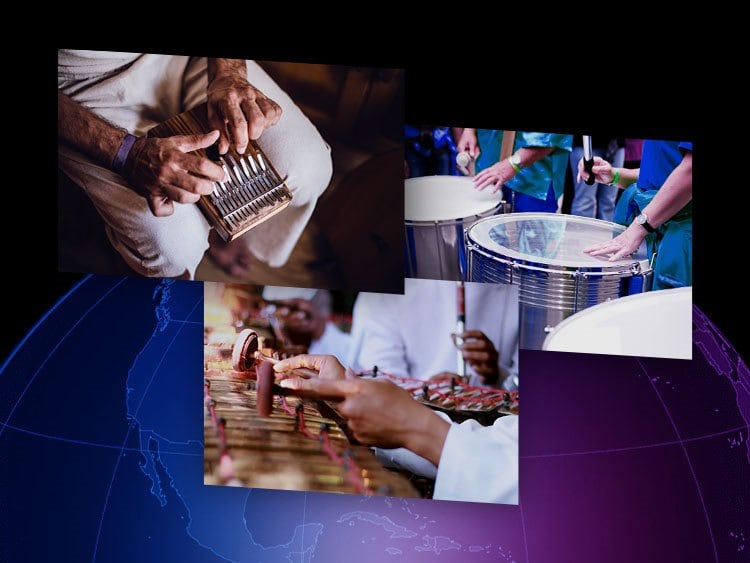 Enjoy Voices and Styles that enable you to emulate music from anywhere around the world. No matter what Style you enjoy, it is loyal and authentic to the country or region where that genre originated.
Mega Boost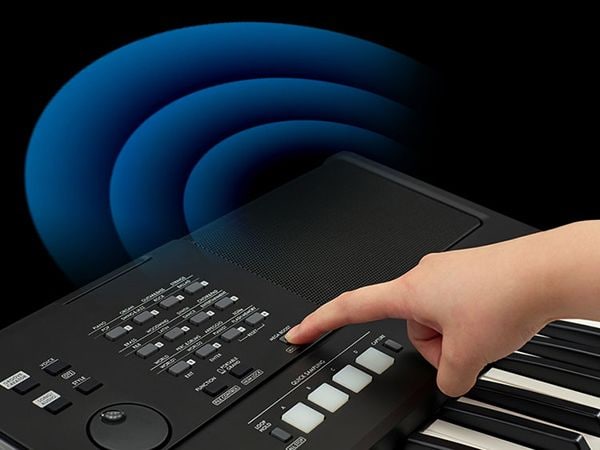 Press the Mega Boost button to add +6dB of powerful volume!
This function adds 6dB to the apparent volume set by the volume knob. Adding a boost to the instruments speaker volume allows you to play with others or be heard above the crowd, even without a PA system.
Mic Input & Vocal Effect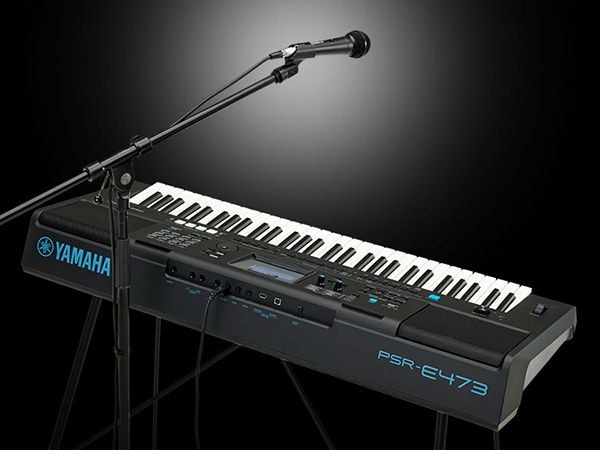 Connect a microphone and sing along with your playing while using built-in studio-quality vocal effects, giving you everything you need for a pro-sounding performance.
USB Audio Recording/Interface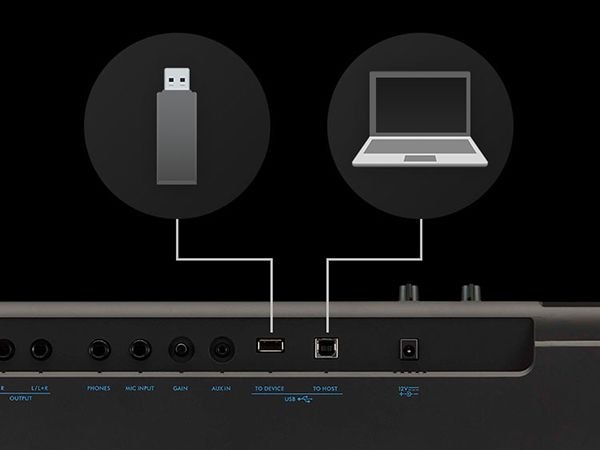 Use the USB To Device port to record and play back audio files of your music from USB flash drives.
Use the USB To Host port to send and receive audio and MIDI data to and from computers and smart devices with studio-quality.
Arpeggio function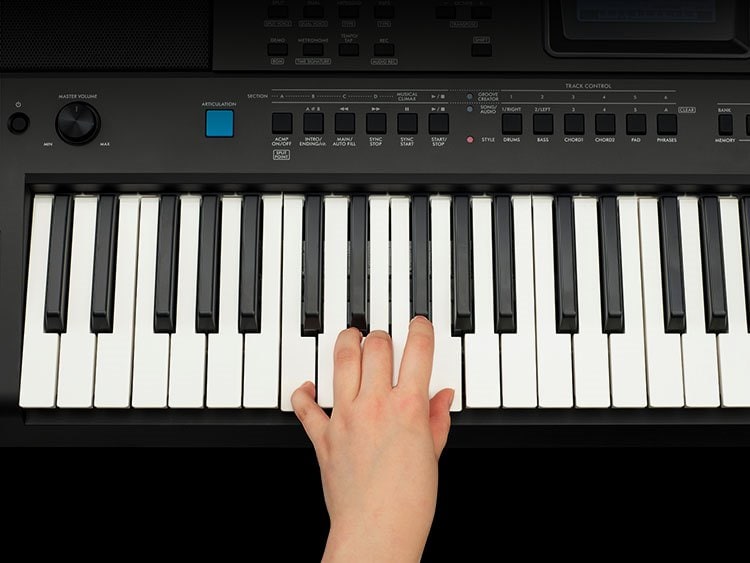 Simply hold the keys of your desired chords, and the keyboard automatically produces corresponding arpeggios (broken chords). You can use the arpeggiator to add exciting musical elements to your producing and performances. For example, play a major triad to make the arpeggiator produce phrase-like combinations of those three notes.
Live Control Knobs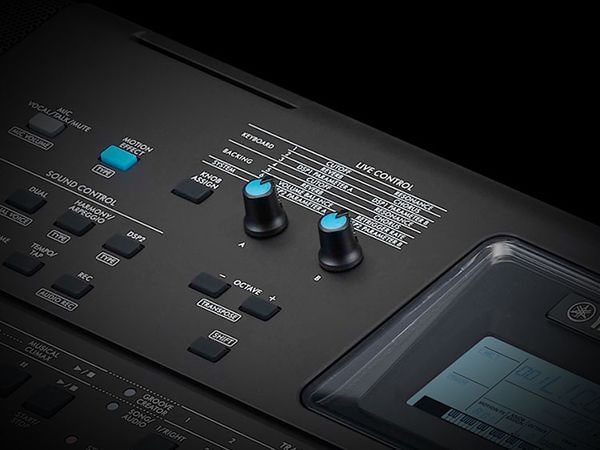 The two Live Control Knobs make it easy to manipulate and interact with the sound you produce as you play. The ability to set the filter cutoff frequency to change the brightness of the sound and control effects in real time helps bring your performances to life.
Motion Effect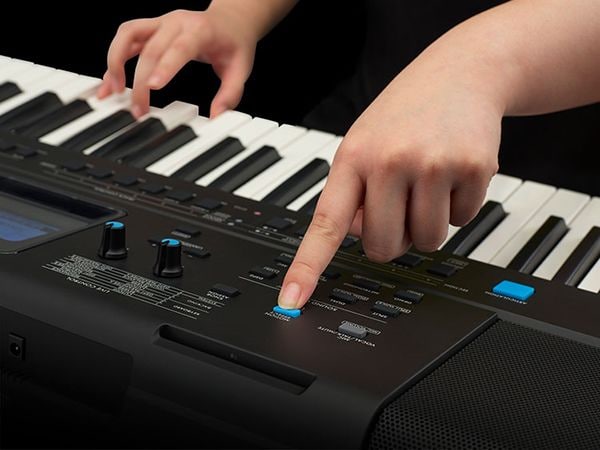 The Motion Effect function lets you instantly add effects while you play that can, morph the sound with a filter, create pitch risers, add tape stop effects & slices, or other new dynamic sound effects. All by simply holding down the button!
Pitch bend wheel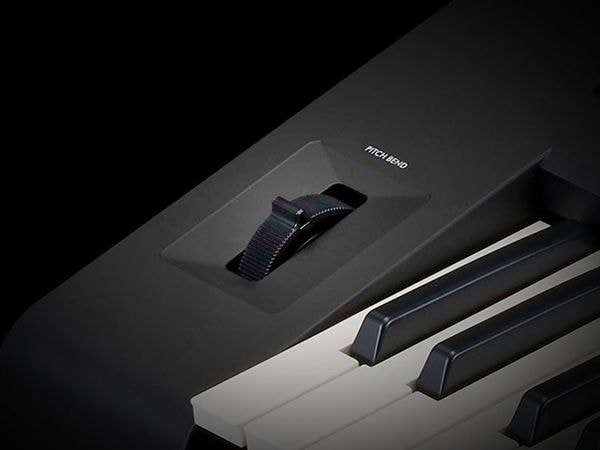 Moving the pitch bend wheel up or down changes the note you're playing smoothly, bringing instrument Voices like guitars, sax and trumpet and synthesizers to life, widening your range of expression.
Direct Category Access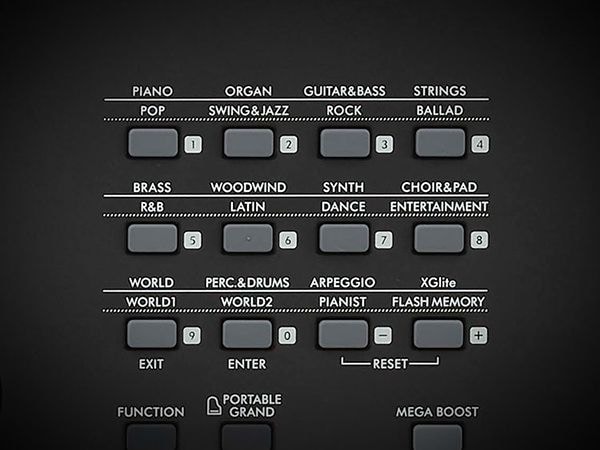 Yamaha added Direct Category Access buttons to the user interface. Push the buttons for instantaneous access to the Voices and Styles you need for the musical genre of your choice.
Groove Creator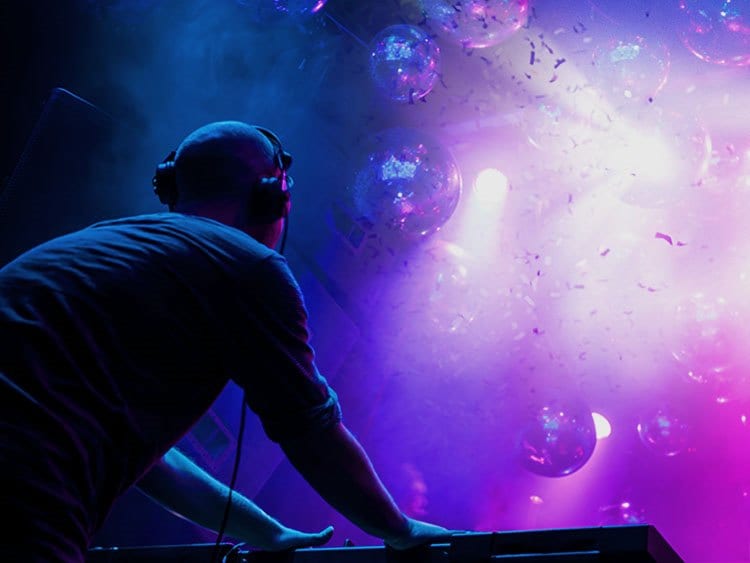 With Groove Creator, buttons and knobs are all you need to create contemporary electronic music and sound like a pro.
Quick Sampling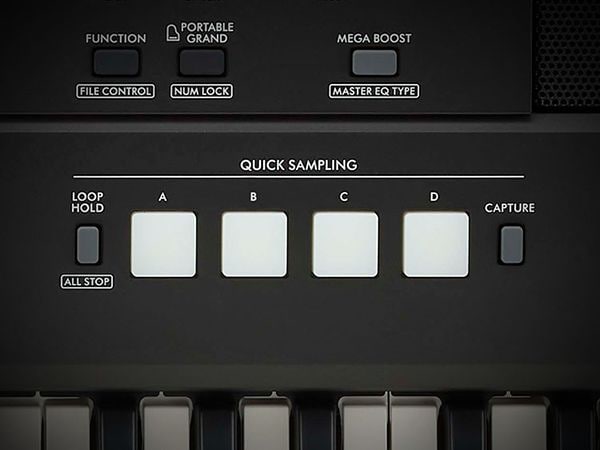 Capture sound from outside of your instrument using the AUX input, microphone input or even by importing files from a USB storage device, and then play those sounds directly from your keyboard. The possibilities are endless!
Gallery
Here's a gallery of the current models.
Buy newest, older, or second hand?
If you want to buy a keyboard from this range right now (January 2022) you won't be able to get the PSR-EW425 or PSR-E423, and will need to buy the previous models, namely the PSR-EW410 or the PSR-E463. These are still very capable instruments but will not have all the performance enhancements of the new models.
Alternatively, you can currently buy any of the models here as none have been discontinued (we will update this article when certain models are discontinued by Yamaha.)
You can likely buy any of these models on the second-hand market. Any of the older PSR-E/EW models not listed here will definitely only be available via second-hand or possibly new old stock markets. Be aware that those instruments will be at least six years old and may have a much reduced feature set.
Buy from this series or another?
The PSR-E/EW series are still considered to be more entry-level keyboards, but they do pack a punch for their price point. Certainly the higher-end models, including those coming out this spring, are well worth investigating.
If you are a more advanced player and think the specifications may be restrictive, you should look at one of the other lines of portable keyboards. Yamaha's PSR-S/SX range are definitely worth considering for much more powerful features, but with a jump up in price.
Alternatively, if you want something much cheaper and simpler to get you into music making, have a look at the PSS range or PSR-F51.
Of course, other manufactures make good entry-level keyboards as well. Check out our keyboard finder for more ideas.
Specifications
The full specifications for each instrument are set out in the following table, allowing for easier comparison. Data has been taken from official Yamaha specification sheets but may contain errors or omissions. Release date may be based on best estimate from information published online by Yamaha and third parties.
| | | | | | | | | | | | |
| --- | --- | --- | --- | --- | --- | --- | --- | --- | --- | --- | --- |
| | PSR-EW425 | PSR-EW410 | PSR-EW310 | PSR-EW300 | PSR-E473 | PSR-E463 | PSR-E373 | PSR-E360 | PSR-E273 | PSR-E363 | PSR-E263 |
| Color | Black | Black | Black | Black | Black | Black | Black | Dark Walnut / Maple / Black | Black | Black | Black |
| Dimensions | 1200x136x404mm | 1179x138x404mm | 1151x118x369mm | 1152x118x369mm | 992x136x404mm | 992x136x404 | 945x118x369mm | 940x100x316mm | 940x104x317mm | 945x118x368mm | 940x106x317mm |
| Weight | 8.3kg | 8.4kg | 5.4kg | 6.2kg | 7kg | 7kg | 4.6kg | 4kg | 4kg | 4.6kg | 4kg |
| Number of Keys | 76 | 76 | 76 | 76 | 61 | 61 | 61 | 61 | 61 | 61 | 61 |
| Keyboard Type | Organ style | Organ style | Organ style | Organ style | Organ style | Organ style | Organ style | Organ style | Organ style | Organ style | Organ style |
| Touch Response | Soft, Medium, Hard, Fixed | Soft, Medium, Hard, Fixed | Soft, Medium, Hard, Fixed | Soft, Medium, Hard, Fixed | Soft, Medium, Hard, Fixed | Soft, Medium, Hard, Fixed | Soft, Medium, Hard, Fixed | Soft, Medium, Hard, Fixed | Soft, Medium, Hard, Fixed | Soft, Medium, Hard, Fixed | Soft, Medium, Hard, Fixed |
| Pitch Bend | Yes | Yes | No | No | Yes | Yes | No | No | No | No | No |
| Control Knobs | 2 | Yes | No | No | 2 | 2 | No | No | No | No | No |
| Articulation Switches | Yes | No | No | No | Yes | No | No | No | No | No | No |
| Display | Backlit LCD | LCD | LCD | Backlit LCD | Backlit LCD | LCD | LCD | LCD | LCD | LCD | LCD |
| Tone Generation | AWM Stereo Sampling | AWM Stereo Sampling | AWM Stereo Sampling | AWM Stereo Sampling | AWM Stereo Sampling | AWM Stereo Sampling | AWM Stereo Sampling | AWM Stereo Sampling | AWM Stereo Sampling | AWM Stereo Sampling | AWM Stereo Sampling |
| Polyphony | 64 | 48 | 48 | 48 | 64 | 64 | 48 | 32 | 32 | 48 | 32 |
| Number of Voices | 820 | 758 | 622 | 574 | 820 | 820 | 622 | 384 | 384 | 574 | 384 |
| Featured Voices | 10 Premium Organ Voices, 4 Live! Voices, 9 Sweet! Voices, 6 Cool! Voices, 14 Super Articulation Lite Voices | 1 Live! Voice, 8 Sweet! Voices, 3 Cool! Voices, 3 Dynamic Voices | 3 Live! Voices, 4 Sweet! Voices, 6 Cool! Voices, 11 Super Articulation Lite Voices | – | 3 Live! Voices, 9 Sweet! Voices, 6 Cool! Voices, 14 Super Articulation Lite Voices | 3 Live! Voices, 9 Sweet! Voices, 6 Cool! Voices, 14 Super Articulation Lite Voices | 3 Live! Voices, 4 Sweet! Voices, 6 Cool! Voices, 11 Super Articulation Lite Voices | – | – | – | – |
| General MIDI | Yes | Yes | Yes | Yes | Yes | Yes | Yes | No | No | Yes | No |
| XGLite | Yes | Yes | Yes | Yes | Yes | | Yes | No | No | Yes | No |
| Effects: DSP | DSP1: 41 types, DSP2: 12 types | 10 types (assignable on control knobs) | 38 types | – | DSP1: 41 types, DSP2: 12 types | DSP1: 41 types, DSP2: 12 types | 38 types | None | None | None | None |
| Effects: Reverb | 12 types | 12 types | 12 types | 12 types | 12 types | 12 types | 12 types | 9 types | 9 types | 12 types | 9 types |
| Effects: Chorus | 5 types | 5 types | 5 types | 5 types | 5 types | 5 types | 5 types | 5 types | 5 types | 5 types | 5 types |
| Effects: Master EQ | 4 types | 6 types | 6 types | 6 types | 4 types | 4 types | 6 types | 6 types | 6 types | 6 types | 6 types |
| Ultra Wide Stereo | – | – | – | – | – | – | – | 3 types | 3 types | – | 3 types |
| Harmony | 26 types | 26 types | 26 types | 26 types | 26 types | 26 types | 26 types | – | – | 26 types | – |
| Dual/Layers | Yes | Yes | Yes | Yes | Yes | Yes | Yes | – | – | Yes | No |
| Split Keyboard | Yes | Yes | Yes | Yes | Yes | Yes | Yes | – | – | Yes | No |
| Melody Suppressor | Yes (w/ pan adjustment) | Yes | Yes | Yes | Yes (w/ pan adjustment) | Yes (w/ pan adjustment) | Yes | No | No | Yes | No |
| Crossfade | Yes (between Internal Sound and External Audio) | | Yes (for Internal/AUX IN) | – | No | Yes (between Internal Sound and External Audio) | Yes (between Internal Sound and External Audio) | No | No | No | No |
| Accompaniment: Presets | 290 | 235 | 205 | 165 | 290 | 290 | 205 | 130 | 143 | 165 | 130 |
| Accompaniment: Fingering | Multi finger, Smart Chord | Multi finger | Smart Chord, Multi finger | Multi finger | Multi finger, Smart Chord | Multi finger, Smart Chord | Smart Chord, Multi finger | Multi finger | Smart Chord / Multi Finger | Multi fiinger | Multi fiinger |
| Accompaniment: Style Control | ACMP ON/OFF, SYNC START, SYNC STOP, START/STOP, INTRO/ENDING/rit., MAIN/AUTO FILL, TRACK ON/OFF | ACMP ON/OFF, SYNC START, SYNC STOP, START/STOP, INTRO/ENDING/rit., MAIN/AUTO FILL, TRACK ON/OFF | ACMP ON/OFF, SYNC START, SYNC STOP, START/STOP, INTRO/ENDING/rit., MAIN/AUTO FILL, TRACK ON/OFF | ACMP ON/OFF, SYNC START, SYNC STOP, START/STOP, INTRO/ENDING/rit., MAIN/AUTO FILL, TRACK ON/OFF | ACMP ON/OFF, SYNC START, SYNC STOP, START/STOP, INTRO/ENDING/rit., MAIN/AUTO FILL, TRACK ON/OFF | ACMP ON/OFF, SYNC START, SYNC STOP, START/STOP, INTRO/ENDING/rit., MAIN/AUTO FILL, TRACK ON/OFF | ACMP ON/OFF, SYNC START, SYNC STOP, START/STOP, INTRO/ENDING/rit., MAIN/AUTO FILL, TRACK ON/OFF | ACMP ON/OFF, SYNC START, SYNC STOP, START/STOP, INTRO/ENDING/rit., MAIN/AUTO FILL, TRACK ON/OFF | ACMP ON/OFF, SYNC START, SYNC STOP, START/STOP, INTRO/ENDING/rit., MAIN/AUTO FILL, TRACK ON/OFF | ACMP ON/OFF, SYNC START, SYNC STOP, START/STOP, INTRO/ENDING/rit., MAIN/AUTO FILL, TRACK ON/OFF | ACMP ON/OFF, SYNC START, SYNC STOP, START/STOP, INTRO/ENDING/rit., MAIN/AUTO FILL, TRACK ON/OFF |
| Groove Creator Number of Grooves | 35 | 35 | – | – | 35 | 35 | – | – | – | – | – |
| Recording Number of Songs | 10 | 10 | 5 | 5 | 10 | 10 | 5 | 1 | 1 | 5 | 1 |
| Quick Sampling | Yes | Yes | Yes | No | Yes | No | No | No | No | No | No |
| USB Audio Recorder Time | 80min p/song | 80min p/song | No | No | 80min p/song | No | No | No | No | No | No |
| Metronome | Yes | Yes | Yes | Yes | Yes | Yes | Yes | Yes | Yes | Yes | Yes |
| Transposition | Yes | Yes | Yes | Yes | Yes | Yes | Yes | Yes | Yes | Yes | Yes |
| Tuning | Yes | Yes | Yes | Yes | Yes | Yes | Yes | Yes | Yes | Yes | Yes |
| Piano Button | Yes | Yes | Yes | Yes | Yes | Yes | Yes | Yes | Yes | Yes | Yes |
| Panel Sustain | No | No | No | No | No | No | No | Yes | Yes | No | Yes |
| Other Functions | Mega Boost, Motion Effect (57 types) | – | Mega Boost, Motion Effect (57 types) | – | Mega Boost, Motion Effect (57 types) | – | – | – | – | – | – |
| Arpeggio | 152 types | 150 types | 150 types | 150 types | 152 types | 152 types | 150 types | – | – | 150 types | – |
| Storage | 1.72MB | 1.73MB | 1.4MB | 1.3MB | 1.72MB | 1.72MB | 1.4MB | – | – | 1.3MB | – |
| DC IN | Yes | Yes | Yes | Yes | Yes | Yes | Yes | Yes | Yes | Yes | Yes |
| AUX IN | Yes | Yes | Yes | Yes | Yes | Yes | Yes | Yes | Yes | Yes | Yes |
| Headphones | Yes | Yes | Yes | Yes | Yes | Yes | Yes | Yes | Yes | Yes | Yes |
| Sustain Pedal | Yes | Yes | Yes | Yes | Yes | Yes | Yes | Yes | Yes | Yes | Yes |
| USB to Device | Yes | Yes | Yes | Yes | No | Yes | No | No | No | No | No |
| USB to Host | Yes | Yes | Yes | Yes | Yes | Yes | Yes | No | No | Yes | No |
| Microphone/AUX IN | Yes | Yes | Yes | Yes | Yes | Yes | Yes | Yes | Yes | Yes | Yes |
| Amplifier/Speakers | 12W+12W 12cm x2 | 12W+12W 12cm x2 | 2.5W+2.5W 12cm x2 | 2.5W+2.5W 12cm x2 | 6W+6W 12cm x2 | 12W+12W 12cm x2 | 2.5W+2.5W 12cm x2 | 2.5W+2.5W 12cm x2 | 2.5W+2.5W 12cm x2 | 2.5W+2.5W 12cm x2 | 2.5W+2.5W 12cm x2 |
| Release date | Mar 2022 | Apr 2017 | Oct 2020 | Jul 2017 | Mar 2022 | Apr 2017 | Feb 2020 | Mar 2021 | Jan 2020 | Aug 2017 | Mar 2016 |
| RRP | TBC | $599 | $519 | $519 | TBC | $479 | $299 | $199 | $199 | ? | ? |
Links
Purchasing